Taken from Lady Lucie's own Myspace Blog. Come down and see me in the Parade!
*******
Join Club Shepway at the Leas Lift Folkestone on Sunday 20th July to celebrate 100 years of Bathing Beauties, and re-live the dream where the first ever British Beauty Parade took place!
The day's attractions include funicular cabaret, featuring in-carriage performances from escapologist Evil Uncle Tony, the musical delights of Miss Ivy Page, plus your chance to learn to hand jive in 40 seconds with the Reverend Boogie!
Remember… don't miss the hotly contested crowning of Miss Club Shepway 2008 at 2pm, with your host, Evil Uncle Tony!
Competing for the title this year will be:
♥Dangerous Dolly
♥Fleur de Guerre
♥Miss Golden de Licious
♥Miss Ivy Paige
♥Veronika Valentine
+ more to be confirmed…
This event is FREE and not for profit! All are welcome, please come and join the fun to celebrate this centenary anniversary in Club Shepway Style.
The project is funded thanks to the Arts Council, and is a Folkestone Fringe event, working in context of the Folkestone Triennial contemporary arts festival – why not make a day of it and visit the public exhibits?… One of which; Mark Dion's 'Seagull appreciation unit' will be located at the Leas Lift for the day!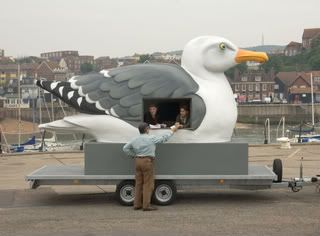 This event will be held at The Leas Lift, Lower Sandgate Road, Folkestone, Kent, CT20 1PR. The nearest Railway station is Folkestone Central.
More information can be found at:
www.clubshepway.com
www.folkestonefringe.com
www.folkestonetriennial.org.uk
www.leaslift.org.uk