This episode of V.I Buys is going to focus on my true love… shoes!
These are all wedges, so if you are offended by wedges, like my chap is (silly man!), look away now!
First of all, some Keds, similar to the ones I was wearing in my last outfit post, except not blue and not lace-up…
From
ASOS
, or just click the pic!
This range of wedges was called 'Kedettes' last year, though they appear to have dropped that moniker now. It's a shame because they based these designs on the 50s range of Kedettes. Keds apparently first launched Kedettes in the 1930s, and they have been popular ever since. Here are two rather fab adverts, one from 1942:
And from 1941:


You can see the colour and styling influences in these new styles, but I have to say I would love a pair of the stripy ones at the top of the last ad!
Next up, also from Asos are these lovely basket weave wedges in a glorious sunny yellow.

They have that all-important (for an authentic vintage look) small peep-toe. 40s repro shoes should only ever allow you a maximum of two toes showing at the peep, and these do. I especially like the little raffia accent.
These next ones are by Miss L Fire, who have a rather spiffy vintage-looking website and usually do some really wonderful shoes. In fact, while getting up their website I just found some more absolute beauties! Look at these!

Sadly, I can't find them for sale anywhere, but I will keep looking as they are really lovely!
Ahem, anyway, the ones I was going to post are these:
They look to me like a cross between 40s Filipino souvenir shoes (more on these in another post) and the more extreme 40s platforms, such as those favoured by another of my style icons, Carmen Miranda.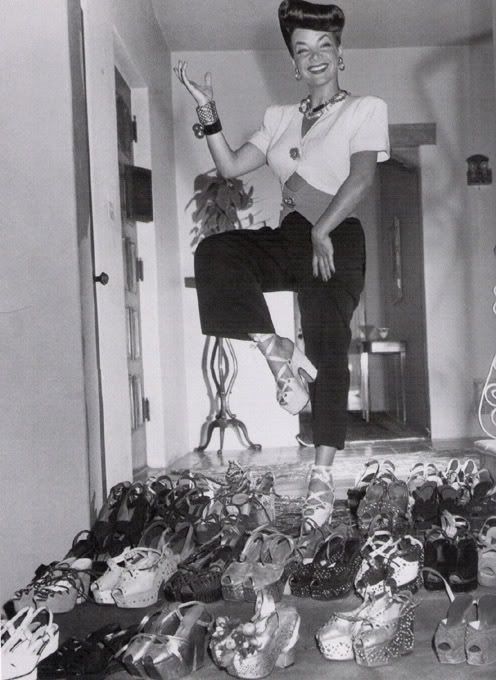 They also come in yellow! Get these from ASOS as well.
In case the shoe fabulousness wasn't enough, Miss L Fire also do fantastic reproduction lucite handbags, too. I would love to meet the designer, so I can shake her hand!
That's it for now, I'm off to bed. I will be back soon with some actual vintage reproduction shoes for your delectation.
Nighty night!
Fleur xx