Evening you fabulous lot!
I just got in from a lovely day with the chap, we went to see On Her Majesty's Secret Service at the cinema, which I had never seen before. And sorry, Bond purists, but I liked George Lazenby as 007! And now I want to master some 60s hairstyles. And on that oh-so-clever segue… my first vintage hair tutorial!
Finally – after quite a lot of hours yesterday spent fiddling with the little Flip camera I was lent on Friday, then fiddling with the fairly rubbish Windows Movie Maker (oh how I need a Mac for at home, or for my work MacBook to not have all the good programs removed!) and ultimately fiddling with YouTube whereupon I realised someone had already taken the name 'FleurDeGuerre', cheeky blighter – after all of that… success! My very first ever foray into interwebular video is complete!
Behold my rather silly frozen visage!
I have managed to confuse matters slightly, in the beginning assuming the video is being watched on my blog, and in the end, directing people to it, but never mind, eh? Do take a look and let me know what you think and how I can improve for my next one – I will certainly work on the final piece more when I have got to grips with editing software, better graphics and so on. And I will cut down on the waffle too, I blathered on so much that I had to cut a lot out to get it under 10 minutes!
Anyway, enjoy, and please leave me a comment below!
Good night!
Fleur xx
Edit: To elaborate slightly and answer two questions posted in my comments (both of which I actually answered in advance as I was doing the filming, but had to cut out for time, haha!
♥ I think this tutorial will work on longer hair, but in order to get the curl going higher up on the hair, rather than just in the bottom 4 inches, you might need to take smaller sections. My hair curls better than some because it is rather damaged from the dyeing and the styling over the years, extremely healthy, lovely, shiny hair will be harder to beat into curly submission! Super straight hair might have trouble with curl staying power too, though the hot sticks do get *extremely* hot, which is what makes them so good. Doing a light, loose set overnight and then doing the hot stick set the next day would probably be the best way!
♥ My hairbrush is a Mason Pearson one which I've had for almost two decades! They are expensive but obviously you get your money's worth! Mine is a mixture of nylon and natural bristles, and I find it perfect. I've heard arguments both for and against pure nylon and pure bristle brushes, either they smooth out the hair too much, or not enough, so a bit of both is a good middle ground.
♥ To those that asked about bobs, doing this set on bob length hair (I also mentioned this in my original footage!), and not rolling it all the way to the scalp will result in a fab, 30s look. Think Ruby Keeler: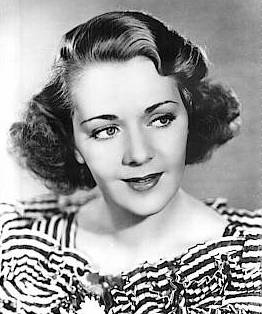 ♥ Sometimes, especially if it is very dry out, no amount of brushing will tame the frizz (though serums etc help here) and leaving it for a bit before going at it again will help it settle (as NoirGirl does). You'll notice in the very last segment of the video my hair is even smoother, that's because I did it about half an hour later when I had brushed it through one more time. I often do this when I get to work of a morning!
I will add more answers as and when the questions come in! Thank you all so much for your kind words, I agree 10 minutes probably is a bit long, but I was introducing myself a bit in this one, so next time I will plunge straight in. And show the back!
F xx