If you're looking for something vintage fabulous to do on Hallowe'en, then look no further!
Following the huge success of our Scandalous High Socie-Tea on the 5th September, The Fox Presents hostesses Fleur de Guerre and Emerald Fontaine are proud to… er… present, The Enchant-Ed Wood!
We've commandeered our favourite haunt (get it?… sorry), the Fox in Shoreditch, again for the night, but instead of a lush English Garden, the pub is now going to be transformed into a spooky haunted forest. It will be replete with trailing ivy, creepers, wizened branches, and wills o' the wisp. This time, too, the smoking terrace will be a desolate graveyard, decked with corpse candles.
As you may have surmised from the (terrible) pun, we've gone for a theme that is inspired by cult 50s B-Movie Director, Edward Wood. As such, we invite you to draw costume inspiration from his life and works!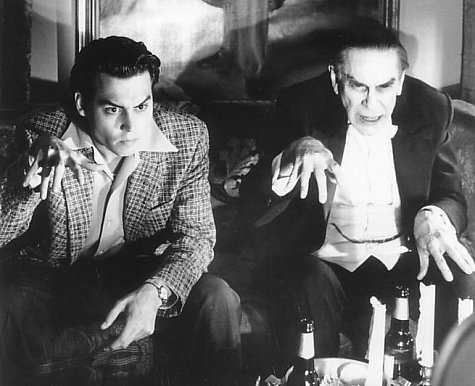 Mr Johnny Depp as Ed Wood in Tim Burton's biopic
Whether you interpret this as angora sweaters and pencil skirts (for the ladies and indeed for the chaps, as Wood was a lifelong transvestite!), wasp waisted Vampiras, mad scientists, dapper zombies, glamorous 50s ghouls and even elegant extraterrestrials; or you keep it simple with just a touch of 50s elan, that is entirely down to you. All we ask is that you are well turned out for the occasion. I wanted to find myself a new outfit for the occasion, but unfortunately I've been a little tied up (tee hee).
The night is going to open with a very special, and super secret act involving a live animal… so if you're dying of curiosity, you'll just have to come along at the start of the night.
We're welcoming back the Sax Pastilles, who will be mixing their signature 1920s jazz with some haunting gypsy swing, and raunchy, sleazy rock 'n' roll to fit with our Hallowe'en theme.
Fans of burlesque will be delighted to note that there are no less than five incredible dancing girls performing in two shows over the course of the night, and one dancing chap will be performing a spot of 'boylesque' for your delectation. Those who aren't fussed about seeing beautiful, semi-naked ladies cavorting about, will enjoy our main downstairs bar, which be well-stocked with a selection of delicious themed cocktails as well as the usual far, plus sweet treats and traditional party games like apple bobbing.
Find out even more on the website, www.thefoxpresents.com.
Entry to this special event is a mere £10 in advance, and still only £12 on the door; but I would like to offer two free pairs of tickets to lucky blog readers, to really help make this an incredibly stylish event.
To enter, simply leave me a comment below, and as before, if you want to enter twice, then post an entry on your blog and link it below. I will announce the winners on Friday 9th October.
I am so excited about this new venture of mine – these parties are exactly the sort of thing I would be thrilled to attend, and I hope you all will be too. And if you would like to come, but live in foreign climes then I will raise a glass to you at the Enchant-Ed Wood!
Cheers!
Fleur (and Emerald) xx
DiaryofaVintageGirl.com