Hi all,
Apologies…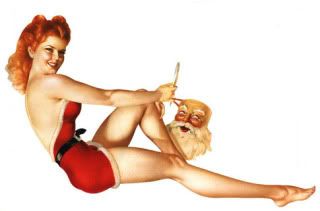 I just wanted to take this opportunity to wish all my blog readers a very Merry Christmas, if you celebrate it, and a very wonderful next Friday if you don't. I am going to be working my stockings off next week, attending meetings about Tart and the Watercress Line Christmas event, doing a shift at my best friend's shop and finishing a huge pile of writing work, so if you don't see or hear from me again for a while, that is why! So I apologise for my forthcoming absence (although you'll still find me Twittering) and I look forward to having a bit more time again in the New Year!
Announcements…
Don't forget, if you're looking for a fantastic, vintage party to attend on New Year's Eve, then do come to mine! We have worked really hard to put together a really wonderful night of glitz and glamour. There's live Big Band swing all night, three gorgeous burlesque girls performing, free cocktails, canapes and gambling on our roulette and blackjack tables, and most of all, friendly, well-dressed guests! I offered a blog reader the opportunity to win a pair of tickets, and only one Brit entered, so congrats Moni! You plus a friend are on the guest list. I would love to meet more some London-based readers, so do let me know if you're coming down! Tickets are on sale now at the Fox Presents site.
I'm going to the Last Tuesday Society New Year's Eve Eve Masked Ball on the 30th, which looks a lot of fun. I do need to find a mask though… any ideas?
Ask Me Anything…
A few fellow bloggers have done this recently, and it seems a good way to interact with my lovely readers. So, if there's anything you want to know about me, but haven't asked, now's your chance! I will try and do this before Christmas!
Finally!
I just discovered the beautiful Debra Paget thanks to Raquelle of Out of the Past, so I have a new idol. I also find it remarkable that this is a picture from the 50s, as the hair and makeup are so perfectly 40s!
Debra was only born in 1933, so it probably isn't even that early in the 50s! Still, it suits her wonderfully well, so perhaps she just stuck with what looked best, rather than current trends. I am now on a quest to get my centre-parted hair to look like this, as I have got the Virginia O'Brien/Hedy Lamarr look down pat. Slightly more volume at the top needed, I think.
I leave you with a couple of shots from my Able Grable shoot with Sean Kelly – if you're friends with me on Facebook or Myspace you will have seen these, but I haven't posted them here yet.
Enjoy the rest of your weekends, ladies and gents!
Fleur xx
DiaryofaVintageGirl.com