… an answer!
I have had some good questions, so I thought I would answer them now!
Miss Matilda asked:
I should like to ask you what qualities you look for in a chap,
but I'd like 3 qualities only 🙂
Mine are :
1. Integrity
2. Good looking, in a dark brooding way, or a ginger way!
3. Wit!
Well I can be really super fussy when it comes to chaps, but the only totally and utterly non-negotiable traits are:
1. Must be taller than me, but at the very, very least the same height. But preferably at least 2 inches taller so I can wear heels without feeling silly.
2. Also wit – I can forgive 'unusual looks' if the chap is witty.
3. Actually, I think I would have to say integrity too. In the sense of being honest and trustworthy – I want a rock in my life I can always depend on!
Other things that might make me choose one chap over a similar one would be living on their own instead of in a smelly boy house, a driver, interested in vintage… devastating handsomeness… 😉 I'd be happy with this one though:
Shrinky Inky said…
I would love to know how tall you are – I envy tall and leggy ladies!
I am 5'10 1/2″ – the half is very important! I do like to wear heels of 2 inches or so, which results in me looking like the 60ft woman next to average-sized ladies. See this pic – I'm actually wearing flat shoes, but so are my friends.
Alex said…
My question issssssss… when are you going to come visit with me?
If everything takes off and works out in 2010 and I make a decent living, then I shall come visit you in the autumn! Sound like a plan? New Hampshire, here I come!
Born too late said…
I wanted to ask about the foundation you use for shoots as I am planning on doing my first photoshoot in the new year and am a complete novice who knows nothing about these things!! Your skin always looks so perfect and sometimes when I take self portraits I notice the flash makes me appear washed out. How can I get that wonderful porcelain skin without looking like a corpse?! Vicky xx
I think the flash direct from a camera and studio lighting is very different so you needn't worry unduly. But I use a mineral foundation from Lily Lolo on a daily basis, so that is what I have on in my candids and outdoor shots. For shoots I use MAC Studio Fix in NC15 with MAC loose powder in NC5 over the top, and judiciously applied blusher!
Stefanie Valentine said…
Ah, you get to have fun over the xmas and New Year period, i have to work boo! I hope your party goes well, and my question (i have about a million though!) is, How did you get started with the modelling?
I got offered the chance to do a free photoshoot from a then-newly started company called the Hourglass, which is a vintage pinup makeover sort of thing. Nicole the photographer had just started and she wanted 12 girls to practice on with the aim of producing a calendar. I never would have dreamed of it, even a year earlier, but I had recently had a somewhat life-changing experience and I just decided to seize the day. So, in July 2007, I did my first shoot. Here's one of the pictures from it:
I enjoyed it so much I did another shoot with Tony Nylons at the Casting Couch, and put the results of both shoots on Model Mayhem. Then offers for more started coming in and my little hobby took off! I can't believe some of the exciting things I have done in the two and a half years, and I have some really fab shoots planned for 2010.
Miss Emmi said…
I hope you have a merry christmas, and that the party is a success! I've seen your photos dressed as Mario, and another of you at a convention, so as a fellow (not so secret) nerd my question is: what's your poison? Manga, anime, videogames? And which ones?
I do love video games, though I rarely have time to play them nowadays. I whiled away many happy hours playing Fallout 3, and Bioshock, and Final Fantasy 8,9,10, Silent Hill and Resident Evil back in the old days. I mostly read these days – I like really nerdy epic fantasy novels and detective fiction. My ex ex boyfriend is a comic artist who's drawn for Marvel, DC and Image comics, so that's why I went to conventions!
Gingerella said…
My question: What got you interested in vintage? Not just for modeling but in general?
I always was 'alternative' as a teenager, I had dreadlocks and wore big baggy jeans and skate shoes. This kind of automatically morphed into a rockabilly look in my early 20s, when I decided I wanted to wear clothes that fit and flattered me instead of making me look all out of proportion! I always did dress in accordance with the music I listened to (and what my friends looked like too) – grunge as a young teen, metal as an older teen, and then rockabilly and psychobilly. But I got really into vintage hairstyles first, and started practicing victory rolls and pompadours while I still had a real psychobilly edge – dyed black and pink hair and lots of polkadots and leopard print. It was while researching hairstyles that I discovered the Fedora Lounge, and realised there were all these amazing vintage clothes out there that appealed to both my love of the beautiful and unusual, and my desire to be more feminine. I've always loved old musicals like 42nd Street and Fred and Ginger films, but I had never imagined there were people out there that dressed like that every day! So I just started slipping further back in time with my outfits. I overhauled my entire wardrobe with vintage inspired skirts, blouses and dresses and bought my first genuine vintage dress in San Diego in 2005. That was it, then, I started scouring eBay and the rest is history. I didn't join the Fedora Lounge until 2006, because it is quite daunting place when you are more of a dabbler. But as soon as I had the wardrobe, I went vintage every day. I don't think I will change now, either: I've been dressing vintage longer than any of my previous incarnations and I can't think of anything that would suit me better.
My first ever vintage dress, worn in one of my early shoots (and actually in the above pic too, but here it is in colour):
Maggi said…
I'd like to know if you use a setting lotion in your hair and if so, what brand? (Hopefully you haven't touched on this recently, I can't remember! lol)
I do – I use Lottabody setting lotion when I do cold/wet sets. I use it quite undiluted, which some people find leaves their hair crispy – it's ok on me! I use a Tresemme heat styling spray when I use my Hot Sticks, and sometimes I just spray each section with hairspray instead, but that does leave my hair somewhat crispy.
Also, if you could go back in time and actually live during the 1940s, would you want to? Why or why not?
I would only go back to the 40s if there was a way of getting back. My favourite era being the very late 30s-early 40s means there was the little issue of the war, and the Blitz… and spending my nights in a damp Anderson shelter doesn't appeal to me in the slightest! I would love to go back, order everything from a Sears catalogue and then hot-foot it back to the 21st Century and my creature comforts.

$2.98!! From here.
Anonymous said…
I think quite a while ago you promised a victory roll tutorial! If you can't do a video, at least a detailed description with photos would be sufficient. Thanks!
Well unfortunately, the main reason I haven't done a victory roll tutorial is not through not wanting to or not being bothered, I simply don't have the time at the moment. It takes the best part of a day to arrange my living room in order to be able to film it, then film, edit and upload a tutorial, and I am so flat out trying to build up my income to enough to live on that a whole day dedicated to it just hasn't been an option. A detailed description with photos would be even more difficult since I live alone and have no easy way of taking dozens of photos of myself from all angles. I'm afraid you'll have to bear with me on the tutorial front. Hopefully I might have time to do something in January. 🙂
Andi said…
No one ever seems to ask me questions when I try this. It is hard to think of something but I'd like to know what kind of books you like to read and your three favourite TV shows (of all-time or currently, it's up to you). =]
I sort of answered about the books above, but I shall slightly elaborate! My absolute favourite books are fantasy epics like George R.R Martin's Song of Ice and Fire series, Joe Abercrombie's First Law Trilogy and The Lies of Locke Lamora and its sequels. I'm not big on SF though, especially the older stuff. Good fantasy is a bit few and far between, and I also go through tons of detective fiction, like Reginald Hill, Ruth Rendell, Elizabeth George. I wish I could say Agatha Christie, but I don't think I've read any of hers!
My three favourite TV shows is a hard one, but I would have to say my all-time favourite is Garth Marenghi's Darkplace. It's a comedy show made in 2004, masquerading as a low-budget 1980s drama/horror series set in an Essex hospital, and it didn't do that well on TV, mainly because no one knew it was on. I think it is pure comedy gold and can (boringly) quote it almost from start to finish. Yes, I am one of those people. The opening title music is even my ringtone on my iPhone. Here's the title sequence and first line of the first episode, which sums up everything I love about it – the cheese, the rubbish effects, the running! None of the names are the actors' real ones – they are playing 80s actors playing characters on the show.
The Wire is my second favourite, and of all the other British cult TV comedies I could rewatch over and over, my current third favourite is The Inbetweeners. It's dreadfully puerile, but I think it is hilarious.
Anonymous said…
Hello,
A silly question perhaps, but is Fleur your real name or your vintage model alias?
Not a silly question! Fleur is indeed my real name – although it's actually my second name. The only time I've ever been called by my first name was in cards addressed to my parents to congratulate them on my birth! And I use my first name on the phone to the bank and so on. But in all school yearbooks, to all friends ever and all family, I am Fleur. 'de Guerre' is not my real surname, but it is phonetically slightly similar, and the name came about though someone once mishearing my real surname.
shona said…
Hey lovely…Which Muppet character are you?
Clearly, the girl in the Muppets Rock Lobsters!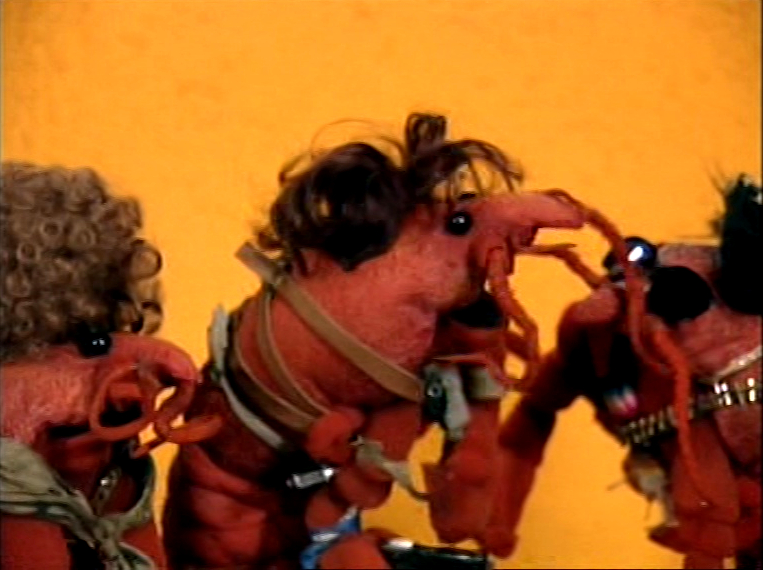 Sorry if that was a bit long, chaps… hope you enjoyed reading though.
Fleur xx
DiaryofaVintageGirl.com