So, it's starting to cool down, which is slightly bad new for me as you all know how much I love my cotton frocks; but great news for the majority (it seems) who adore cold weather and all the options it brings! As someone who owns tons of jumpers, coats and pairs of trousers, it isn't so bad, just a bit less… loud. 😉
And, in fact, if you, like me, own tons of flimsy dresses, you've still got a couple of months' mileage out of them, as long as you invent in plenty of seamed stockings and some slips. I find wearing a Swirl (for example) with stockings isn't that wise without a slip, because ten steps up the road, the static cling has resulted in a lovely ruched mini-skirt look as the hem rises up above my knees! I have an old half-slip of my mum's, which is great, but full length slips can be found in charity shops, eBay and old lady departments of shops and are definitely worth investment. Many girls also prefer tights, but I find stockings to be much more practical, not least because if you ladder one, you've still got one left! I live in What Katie Did Retro Seams in nude – they are surprisingly durable. Make sure you get a six-strap suspender belt with proper metal clips – 4-straps and flimsy little things with plastic ends will neither keep your stockings up for long, nor keep them straight (the key ones are at the back, keeping everything in a line).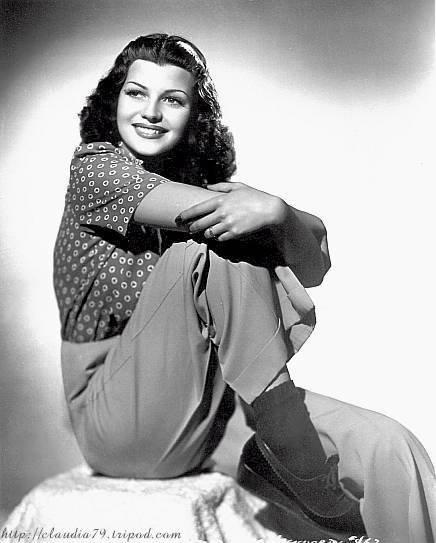 The lovely Rita, from here.
Autumn is really all about separates for me – trousers, skirts and blouses with sweaters, cardigans and jackets. It's no secret that I have loads of Heyday trousers – I was a customer of Shona's for years until I became her model. I like the fit best, and the fact that she lengthens them and adjusts the waist size for me. If you prefer a more authentic fit, with a long crotch and a slightly tapered leg, have a look at Vivien of Holloway. Their trousers don't work for anyone too tall though, sadly. Check out VoH's range of tops too – peasant and button-up blouses work brilliantly with trousers. Heyday has some lovely new blouse fabrics coming in for the autumn. Here's a sneak peek from our shoot yesterday…
The blouse, with its beautiful art deco-esque print is the Olivia and if you'd like one, you'll have to hold your horses for a few more days until our official pictures are done! I'll let you all know, of course. But you needn't look any further than the high street for basics like blouses. Look for peter pan collars, puff sleeves and pintucks and other nice details – all can be quite authentic.
Skirts, if you're into a 1940s look, should be a-line or straightish – not too full and not too pencil-y. I have some lovely vintage wool skirts from eBay – I think they might be 50s rather than 40s, but still look great. One place to turn to for repros is Top Runway. I sent the helpful lady there some pattern pictures and she reproduced me some great 8-gore skirts and a 30s style one with straps. She also does some super dresses – the fabric she uses is too hot for summer, but perfect for autumn. You could always request some swatches, too.
I love my jumpers and cardis, and have a few from Rocket Originals. I adore their square-necked fairisle sweaters, and check out this new nautical style number! I just saw it when getting the link! A bit more 50s, but really cute. I also love Dressing4Impressing, another UK company making lovely sweaters and cardigans in 40s and 50s styles. They also do some really great 40s blouses.

Top two Rocket, bottom two D4I!
Once again, you can pick up vintage inspired knits from the mainstream shops, too. Brit girls, try Dorothy Perkins, Marks and Sparks and even H&M – I've found great things there before.
Jackets are an autumn staple. Look on eBay US and Etsy for orphaned suit jackets – they're usually much more affordable than whole suits. I have posted my La Riviera jackets on here before, usually resulting in people asking where they can buy one – the answer being that they don't have a website.

Picture of me at the Watercress Line by Sean Kelly
Well, I just discovered somewhere selling them! Hynotique Vintage has a selection of the 'ski' jackets and also the shorter ones, which are a lot like the above one on the divine Rita in Cover Girl!

Kate, from here.
As far as shoes go, I like to still wear my peep-toe sandals in autumn, along with stockings or pop-socks they are warm enough. I love cheap Keds-style plimsolls too, when it's dry. But now is the time to invest in some Kate Hepburn-esque flat oxfords or saddle shoes. You lucky Americans have lots of easy options for saddle shoes, but UK ladies can get them from Rocket Originals again. There are some great, girly flat oxfords and brogues in Office at the moment. But none so fabulous as these 30s-inspired court shoes! Ooh, someone lend me 80 quid! 😉
That's about it for autumn vintage fashion tips – I will be saving up my winter ones for a few months' time. Hope some of these links are of help to someone out there!
Fleur xx
DiaryofaVintageGirl.com