Ahoy! This is the fourth in a series of adventures I've been sent on, by and for
The King's Ginger
. Think of it as a history mini-series, accompanied by pictures of me in frocks. This month, I travelled down to Portsmouth to look at boats and eat fish & chips. Sorry, I mean, to take a serious look at King Edward's relationship with the Royal Navy.
Portsmouth is a great place. I took many fondly-remembered school trips there to look around the fascinating museums and ships in the Historic Docks. Unfortunately, nowadays, you can only buy one vastly expensive ticket to enter every single attraction, and because this trip was meant to focus only on things relevant to the life of his Majesty, we didn't think there was much point in forking out. So instead I took a sneaky shot in front of the HMS Warrior.
I simply had to wear patriotic colours, of course! Red, white and blue Fleur dress,
currently on sale at Heyday
, and still can be worn in the autumn with a wee slip underneath! I got a fab one sent to me recently by
Damart
. Thanks owed to them for keeping me non-hypothermic.
The Warrior is not as fancy as the HMS Victory, the 18th Century warship that's moored around the corner (and not visible to plebs outside). But what she lacks in glamour, she makes up for in sheer brute strength. Built when Prince Edward was a stripling of 19 in 1861, she was the most heavily armoured warship the world had ever seen. Luckily, Great Britain was going through a peaceful period, and she never saw battle… only to be removed from service a mere ten years later as new technology made her entirely redundant. But she was not abandoned before she had formed part of a naval squadron that escorted the future King and the Royal Yacht on an official visit to Dublin in 1868.
Nice white vans!
Edward was very fond of ships. In 1906, he visited Portsmouth at least twice; once to launch a revolutionary new battleship, and once to undertake a royal Fleet Review. The HMS Dreadnought was completed in February of that year, and later gave its name to an entirely new class of ship, none of which survive to this day, sadly. The BFI has a film of the day which I would love to see, showing Edward all kitted out in the uniform of an Admiral of the Fleet. He must have been in his dapper element!
He returned on the 9th of August of the same year to do one of his five Fleet Reviews – a lot given his short reign (though not compared to his mother Victoria's seventeen!), which says much about his enthusiasm for all things naval. On that day, he stood at the Spithead with Queen Alexandra to gaze upon his Royal fleet. It must have been a fine sight… one I tried to imagine, as I stood in vaguely the right area. Ish.
Still feeling patriotic, with the Union Jack flying in the background!
In the absence of anything fancier than the Isle of Wight ferry in the bay, I was instead gazing upon, not a regally mobilised fleet, but a Victorian pleasure pier.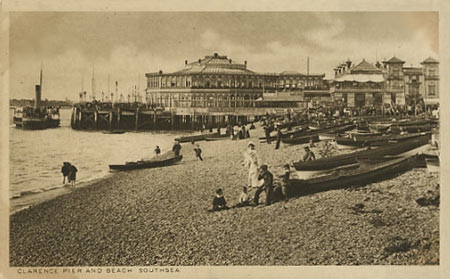 Southsea Clarence Pier opened in 1861, and was hugely popular with residents and visitors alike. A later addition came in the form of an elegant pavilion, opened by Crown Prince Edward himself back in 1882. One can only imagine its former glory. And one has to, because the sight that greeted me instead of the above, was this.
Concrete, tat and a dilapidated roller coaster. Sigh!
I had to have a little nip of something restorative after that horrid shock! 😉
My rather snazzy engraved leather hip flask was a present from KGL. It comes as part of a giftbox with all sorts of bits and would make a really good present for another ginger lover…
available from BBR online here
!
Tat aside, Portsmouth is a lovely place (as well as being home to Naomi), the Old Town is particularly gorgeous, with its cobbled streets and Georgian houses. I had a truly delicious plate of fish and chips at the Old Customs House Gunwharf Quay before heading home, with my lungs and hair full of sea breeze, and luckily not seagull poo (though I had a very close call!). I leave you with one final photo montage. One outtake of me jumping down from my vantage point, which rather splendidly makes me look like I can fly… and one of my new boyfriend, (HMS) Vernon. I'm not sure he's a keeper, though; he doesn't have much to say for himself and I couldn't get him at all interested in a shot of King's Ginger!
Until next time, wrap up warm and stay gingery!
Fleur xx
DiaryofaVintageGirl.com